DDS227 Electronic Single-phase Series Watt-hour Meter
Conformed standards:
Ÿ Chinese GB/T 17215-2002 Alternating Current Static Watt-hour Meters for Active Energy (class 1 and 2)
Ÿ Chinese GB/T 17215.321-2008 Static meters for active energy (class 1 and 2);
Ÿ International standards IEC 61036-2000, IEC 62053-21:2003
Application:
This electronic single-phase electric meter is the most advanced static electronc meter in China. The meter designs use large-scale integrated circuit, high reliability step motor, it can meter the AC single-phase active energy (voltage rating: 220V; frepuency 50Hz), positive and negative two directions and accmulates in one direction. It also has the function of anti-tamper. It adopts the optocoupler output signals, and used for directing the energy with the power line carrier light-emitting diodes, and it is easy to be managed.

Type and meaning:

Technical parameters:
Type specs
| | |
| --- | --- |
| Reference voltage | Current (A) |
| 220V | 1.5(6)A, 2.5(10)A, 3(6)A, 5(20)A, 5(30)A, 10(40)A, 15(60)A, 20(80)A, 30(100)A |
Ÿ Phase: single phase
Ÿ Display type: Counter display
Ÿ Accuracy: class 1.0, class 2.0
Ÿ Operation voltage range: 0.9Un ~ 1.1Un
Ÿ Power loss: ≤1.5W
Ÿ Meter constant: 800imp/kWh ~ 6400imp/kWh (according to nameplate)
Ÿ Pulse width: 80ms±20ms
Ÿ High accuracy: error<1.0% class 1 (2.0% class 2)
Ÿ High sensitivety: starting current <0.4%Ib
Ÿ Range of large load : current overload ratio>6 times
Ÿ Starting current: the meter can work correctly under the rated voltage and rated frequency (power factor:1), when load current is larger than 0.4%Ib.
Ÿ Creep: with the logic design of anti-potential action.
Normal operation and installation conditions:
1、Normal operation temperature:-25℃~+55℃;
2、Limited operation temperature:-40℃~+70℃;
3、Relative humidity:less than 85%;
4、No corrosive in the air.
Outline and installation dimensions:
Unit: (mm)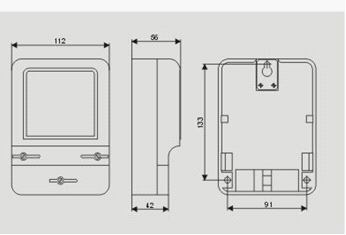 Principle:
When the customers use the energy, diverting the signals on the current and voltage divider. It thoughs the amplifier, multiplier, intergration, V/F conversion, sub-frequency power driver circuit and processing, drive the frequency step motor, and mechanical register to accumulate customer's electrical energy consume.