DDSY227 Single Phase Pre-payment Watt-hour Meter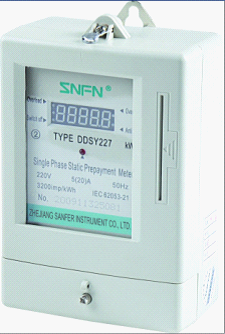 Conformed Standards:
· IEC 61036-2000 Alternating Current Static Watt-hour Meters for Active Energy(class1 and 2)
· ISO/IEC 7816-1997 Information Technology, Identification Cards, Integrated Circuit Card with Constants Parts 3 Electronic Signals and Transmission Protocols.
· Chinese JB/T 8382-1996 Prepayment Electrical Meter
· Chinese GB/T 18460.3 Prepayment Vending System using integrated circuit(s) cards with contacts Part 3: Pre-payment electricity meters.
Application:
The prepayment watt-hour meter is a new kind product by our company, which is based on excellent pre-paid special chip which has multifunction, such as electrical energy calculation, load control and users information management. The product is setting charge and adjusting load state in the electric network.
Specifications:
Accuracy

Class 2.0

Rated Voltage

220V

Op. Voltage

70% Un~120%Un

Nominated Current

1.5/6A, 5 /20 A,

10 /60 A, 15/60A, 20/80A

Frequency Range

50 Hz ± 5%

LED or LCD Display

4-digital LED,

6-digital LCD

Meter Constant

-imp/kWh (according with the tender requirements)

Operating Temp.

-25℃~+55℃

Average Relative humidity

< 75%

Storage/Transport Temp.

-50℃~+70℃

Power Loss

Voltage circuit:≤ 2W, 10VA

Surge Test

4 kV

Current circuit:≤ 2.5VA

ESD

8 kV

Impulse Test

6 kV

Dimension (mm)

166×109×66

Starting Current

0.4% Ib

Weight

0.65 Kg
Features
Ÿ Large LCD display with comprehensive icons
Ÿ Optimum prepay management under proprietary system software
ü Configuration card for parameter initialization / update
ü User card for credit transfer, reissue mechanism if missed
ü Retrieve card for meter retrofit
ü Huge ROM card for utility field survey
Ÿ Advanced anti -tamper features, Compartment wise tamper logging with snap shot:
ü Immunity to mobile phone disturbance
ü Cover open detection
ü Current reversal
ü Earth load
Ÿ Advanced anti- fraud of IC card port attack,
ü IC card contacts shorten by metal sheet
ü Electrical spark (like motor starter)/ ESD attack on IC card contacts;
ü AC/DC or high frequency signal injection on IC card contacts;
ü 400Vac attack on IC card contacts
Ÿ Pre-alarm when out of credit, LCD flash display, Beeping (optional)
Ÿ High-reliable magnetic latching relay, ON/OFF 5000 times with Imax current;
Ÿ Cut-off user supply for overload protection, resume after 5 minutes (programmable)
Ÿ Highly security transaction upon encrypted data & password mechanism
Outline Dimension: